West Valley citizens, two members of the Maricopa County Board of Supervisors, and a host of City of Goodyear officials celebrated the formal grand opening of the Goodyear Branch Library on Friday, February 28.
A large crowd was drawn to the formal grand opening of the Goodyear Branch Library on Friday, February 28. In attendance to celebrate the grand opening with Supervisor Hickman was the previous District 4 Supervisor, Max Wilson.
"Goodyear community members and the surrounding area are now enjoying the updated space of a new library that is more than five times larger than the previous facility," said District 5 County Supervisor, Mary Rose Wilcox. "I am excited about the availability of an exclusive Program Room in which kids and families can participate in a variety of activities including story time, book discussion groups and hands-on, mind-engaging workshops," she added.The library has a collection of more than 14,000 items that customers can check-out or simply enjoy in the new surroundings."Library users now have access to more computers to search for library resources, a larger stock of books, CDs and DVDs, and a place that's more inviting and accessible," said Clint Hickman, District 4 County Supervisor. "In addition, it is vitally important for libraries to continue to be a hub of the community—to provide services that allow kids to improve their literacy skills, where job-seekers can get help, and where entrepreneurs can tap resources as they investigate opportunities for business success," he noted.
The Goodyear Branch Library is the latest library to host an Alexandria Co-working Network space—dubbed The InnovationHub @ GoodyearAZ—to cultivate and advance creative thinking, networking and problem-solving among entrepreneurs, innovators and small business owners who use the space. The InnovationHub is a partnership between the City of Goodyear and Arizona State University.
At a cost of $1.1 million, borne by the City of Goodyear, the new library has adopted the ShelfLogic shelving system which makes materials easier to find with subject or author identifiers instead of numbers. Bookshelves are lower; there's more space to browse; and comfortable seating abounds for kids and adults.
Goodyear Branch Library is one of 17 libraries operated by the Maricopa County Library District. Library cards are free to Maricopa County citizens. MCLD card holders, including Goodyear Branch cardholders, have access to more than 5.9-million downloadable library items online.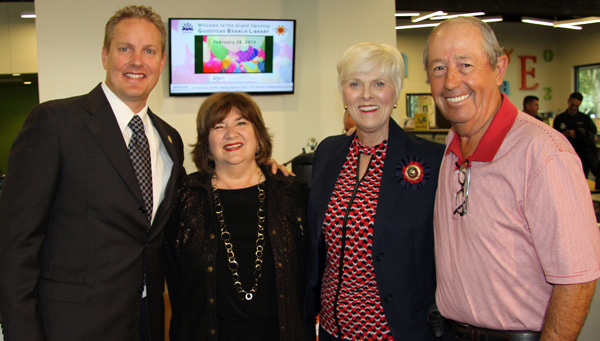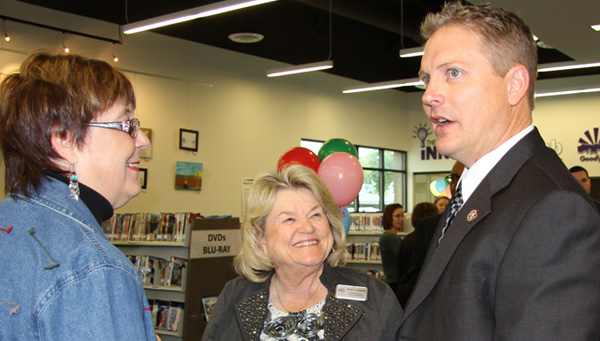 Goodyear Branch Library is located at 14455 W. Van Buren in Goodyear. For more information, visit
www.mcldaz.org
.