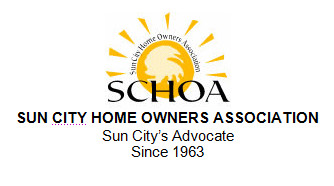 Ceremonial Golf Cart Legislation Signing
Golf Cart "Parade of Appreciation"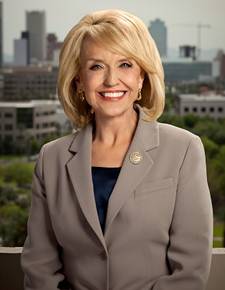 On Thursday, August 14, Sun City residents will have the opportunity to extend their appreciation to Governor Brewer for her recent signing of House Bill 2027. This bill was initially introduced in January, 2014 for consideration by AZ Republican Representative Debbie Lesko, R-Glendale, and allows golf carts to legally and safely travel on the road shoulder. This bill now allows residents of age-restricted communities to legally continue doing what they have been doing for years.
"Golf cart motorist safety on public streets is particularly important in our retirement communities where so many households own golf carts and regularly use them for trips to the grocery store and other daily errands. The County worked closely with the SCHOA Traffic and Safety Committee and Rep. Debbie Lesko to put forth recommendations for the revised traffic law legislation," said District 4 County Supervisor Clint Hickman, who will also be in attendance during the celebration.
The first 200 golf carts to arrive will receive a complementary Sun City golf cart flag (courtesy of APS). The parade will begin at promptly at 8:00 a.m. with golf carts arrival beginning at 7:30 a.m. and gathering in the median parking area on Peoria Avenue in front of the Fairway Recreation Center. The parade will be led by local representatives parading in front of the grand stand facing Peoria Avenue before parking and gathering for a community reception in the Fairway Center before welcoming Governor Brewer. Maricopa County Department of Transportation (MCDOT) will provide special event traffic control along Peoria Avenue and 107th Avenue during the golf cart "Parade of Appreciation."
Local representatives who supported the bill to make Sun City and Sun City West safer for all will be on hand to meet and greet residents and guests. This legislation was an important step in making Sun cities' roads safer for all. In Sun City, half of the 27,500 households use golf carts for neighborhood transportation as well traveling and to and from community golf courses. For many of these golf-cart owners, it is common to drive on the shoulders of Sun City's wide roads to feel safer. However, prior to this bill being passed, state law forbade cart drivers from utilizing the shoulders because golf carts are classified as motor vehicles, which, by law, cannot move in the same direction as another adjacent moving vehicle.   Debbie Lesko stated, "When the Maricopa County Sheriff's Office ticketed people for driving their golf carts on the shoulder during the summer of 2013, residents began to drive on the road."
Being concerned about this being a safety issue, Representative Lesko felt the need to write the bill. The bill was co-sponsored by Reps. Judy Burges, R-Sun City West; Karen Fann, R-Prescott; Rick Gray, R-Sun City; David Livingston, R-Peoria; and Phil Lovas, R-Peoria. Both legislative chambers voted unanimously to approve the bill.
In attendance at the August 14 event will be representatives from the Recreation Centers of Sun City, Sun City Home Owners Association, Property Owners and Residents Association (PORA), The Posse, The Sheriff's Department and MCDOT.
For more information regarding the event, contact Carole Studdard, Marketing and Public Relations Coordinator, Sun City Home Owners Association, at 623 974 9324, ext. 211.