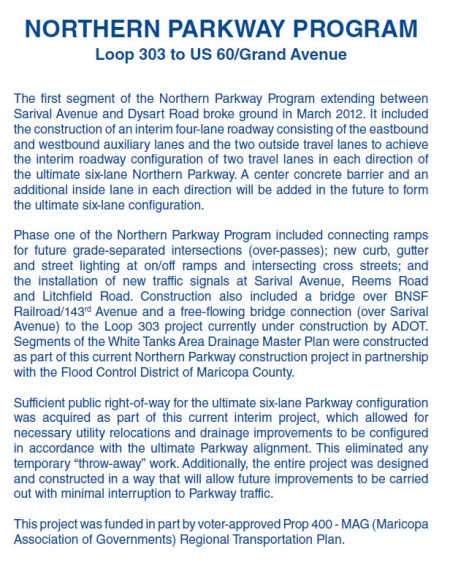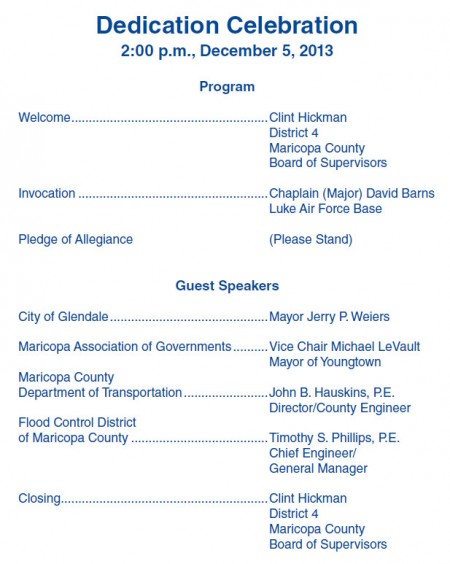 About the
NORTHERN PARKWAY PROGRAM
Loop 303 to US 60/Grand Avenue
The future 12.5 mile segment of Northern Parkway extending between Loop 303 and US 60/Grand Avenue traverses along the current Butler Drive alignment between Loop 303 and Litchἀeld Road north of Luke Air Force Base (LAFB) and then shifts southeastward along the current alignment of Northern Avenue through the jurisdictions of El Mirage, Glendale, Peoria and Maricopa County.
The future Northern Parkway ultimate conἀguration will generally consist of six through lanes (three travel lanes in each direction with a center median). Grade-separated overpasses will enhance traffic Ḁow at major arterial intersections, including Sarival Avenue, Reems Road, Litchἀeld Road, Dysart Road, El Mirage Road, 93rd Avenue (west ramps), 91st Avenue (east ramps), 83rd Avenue and 75th Avenue. A grade-separated underpass will be constructed at the intersection of 103rd Avenue. Overpasses will also cross over the BNSF Railroad at 143rd Avenue, 99th Avenue and 97th Avenue. Major bridges willcross the Agua Fria River, New River, US 60/Grand Avenue, BNSF Railroad and a bypass bridge will cross over Loop 101.